Here's why you need T&T Tinting's Safety & Security Films and our Graffiti-Gard Films for your commercial building, office windows (or even for your home windows):


With Hawaii's vulnerability to hurricanes, violent tropical storms, and the current state of the world with the real threats of terrorism in our homelands, the majority of damage resulting from these acts is due to flying or falling shards of broken glass. Keeping glass in its place is crucial for safety as well as reduction of loss of property and life. Our Safety & Security Films come in many different shades from completely CLEAR to TINTED versions that not only provide added security, but also reduce up to 79% Heat, 80% Glare as well as 99.9% UV Rays.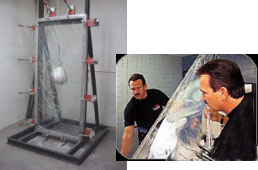 Our Llumar Magnum series is a Security Film available in thicknesses from 4Mil through 15Mils. It is used to add a thick layer of protection to any glass to keep broken shards together when shattered by accidental run-ins to high winds, hurricanes and even bomb blasts. No more hurricane tape needed here.

8Mil Vista or Llumar Magnum Security Films in combination with our Glass-Lock Window Restraint Systems (or several other systems) have met the strict Dade County Florida hurricane standard that requires hurricane resistant protection withstanding wind speeds in excess of 100 mph. These systems have been installed here in Hawaii on the windows of many buildings including select Federal & State Government buildings, the City Financial Tower and on many Mililtary Bases. These systems secure the safety film to the glass and then literally bolts the film and glass combination to the building keeping the broken panes in place, not allowing it to leave the frame.

Our 4Mil Magnum Graffiti-Gard film is used as a "sacrificial shield" against costly "glass etching graffiti." When this 4Mil Graffiti-Gard is applied to normal bathroom mirrors, shopping mall entry doors, elevator windows and the like, it eliminates expensive glass and mirror replacements forever! After vandals etch or scratch the clear Graffiti-Gard, it can be quickly and inexpensively removed and replaced, saving hundreds or thousands of dollars!

Save thousands on unnecessary glass replacement when you nneed to meet the Safety Glazing Code! The City & County of Honolulu and the County of Kauai has both approved all of our Llumar Magnum and Vista 4Mil (or thicker) Safety Films as "equivalent to safety glazing". This means, if you need to have any of your standard plate glass windows meet code – we can simply install our 4Mil clear or tinted Security Films onto the pane(s) to do it.