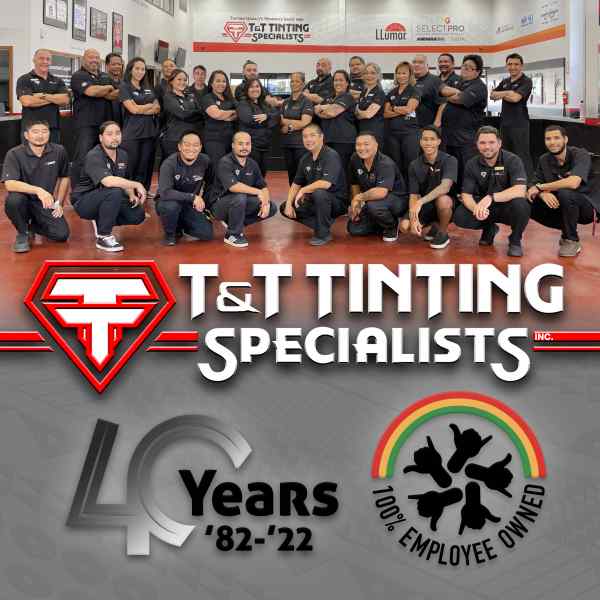 Welcome to T&T Tinting Specialists Online!
Since 1982, T&T Tinting has been Hawaii's leader in professional window tinting installation and is the ONLY Glass Tinting Company in the State of Hawaii that is also ranked as one of the TOP Window Tint Installation Companies in the United States and we are extremely proud of that National recognition from Window Film Magazine every year since 2013, as well as being voted "Hawaii's Best Auto Tinting Company" by the readers of the Star Advertiser from 2015 through 2021, 7 years running. The BIG news this year is that as of 10/01/2021, T&T Tinting is 100% Employee Owned through a newly formed ESOP (Employee Stock Ownership Plan), adding to the long list of employee benefits that T&T provides its loyal employees to keep the best in the business right here at T&T.
Our team of over 30 skilled, loyal installers and staff are certified to bring you the highest level of quality, value and customer service with over 275 years of combined glass tinting business experience. We have been instrumental in the introduction and passage of safe and practical Auto Tinting Laws in the State of Hawaii and consider your safety and complete satisfaction our most important goals.
We only install the best window film products in the world, manufactured and backed by the largest maker of window films in the world, Eastman Chemical; LLumar SelectPro FormulaOne Auto Tint for your vehicles and LLumar SelectPro Vista Window Film for your home, office hotel or commercial building-- both films are available exclusively at T&T Tinting on Oahu.
We promise to continue to bring Hawaii the latest in Window Film Technology and provide only the highest level of installation!
We hope that you choose T&T Tinting and become a part of our growing family of valued customers. Please drop by either location to see for yourself what being 100% Employee-Owned has done for our clientele...
Read More