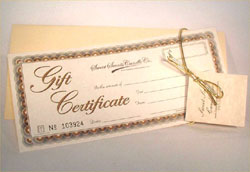 Purchase T&T Tinting Specialists, Inc. gift certificates an many different denominations right here, right now. This convenient and automated service completely eliminates the hassle of driving in Hawaii's worsening traffic, wasting gasoline, finding parking and waiting in lines, especially during the hectic holiday seasons.
These gift certificate transactions are completely safe, private and secure through "PayPal", the number-one online financial processing service, the same processing company used by e-Bay and thousands of other companies for processing millions of dollars per day in online transactions.
As soon as your payment is verified by PayPal, on the next buinsess day, our office will mail your gift certificate directly to you or to your receipient - the choice is yours.
Please allow standard U.S. Mail delivery time.
If you have any questions about this service, please email us at sales@tnttinting.com
---